Design Trends
There are some big trends emerging in the exteriors of new homes in 2018. Here's the run down on what's hot right now.
Google 'home trends' and you will find pages and pages of information about what's happening in the world of interiors, but it can be tricky to discover what's happening with modern exteriors.
Exteriors can be exciting too! New homeowners are finding that there's some beautiful trends emerging in exterior styles too. Some of these colour and textural changes have been continuing the trends of recent years (hello greys!), while others are signalling a return to more rustic shades and artisanal textures – and even classic red bricks, albeit all with a modern edge.
Here's what we are seeing as the 8 big trends of 2018 in home exteriors: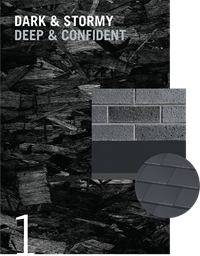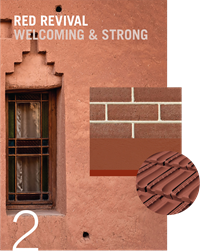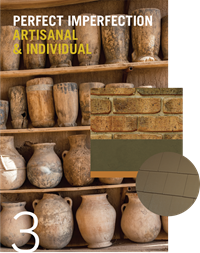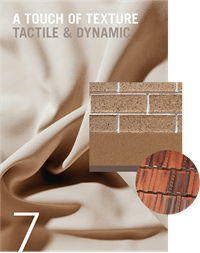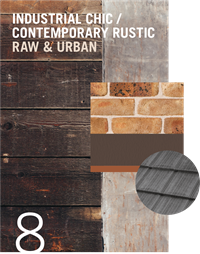 Dark and Stormy
In keeping with Australia's love affair with grey, the darker shades of exterior facades offer a moodier aesthetic. The move to rich charcoals seems to be more prevalent in cooler climates, but they are also appearing in hip inner-city areas of Sydney and Melbourne. Deeper colours add a sense of drama and an edgier look and feel in a streetscape.
This trend was highlighted in 2017 on The Block where PGH's Pewter bricks became an instant hit overnight with the contestant houses all including dark design elements using brick.
Dark home exteriors often use light colours for the trim and accent colours to contrast against the dark brick. A light-coloured render will draw attention to architectural features picked out in dark accents, while an all black exterior can deliver a minimalist execution.
Favourite bricks to work with the Dark and Stormy trend include the Metallic Pewter (naturally), classic favourite Mowbray Blue from the Dry Pressed range, and the dramatic Volcanic shade, either as a Smooth brick or Velour – or even mixed to create a blend of textures.
Red bricks
The classic shade of Aussie bricks is on its way back! But in a fresh, new, reinterpreted version.
Red brick has always been used beautifully in heritage buildings and the hearts of some architects. Now this classic, ancient building material (consider the beautiful Roman ruins that feature it) is returning and bringing its welcoming warmth back as a premium finish.
The return of red is not only for whole houses, but also are used as features to enhance a building's form, alongside other curated materials in a contemporary way. Strong in looks and in materials, popular choices include McGarvie Red in PGH's Dry Pressed range (the linear variant particularly adds a modern touch for feature walls), along with classic red in the Smooth range, or even Chisholm in the Sandstocks. Add contrasting black windows and trims for an updated look and feel.
Perfect Imperfection
This emerging trend takes inspiration from Industrial Chic, but comes with a more handmade and personalised selection process. Bricks that work with this trend capture the desire to create an imperfect, knotted and gnarly effect with a level of customisation.
It taps into a growing movement towards artisan-created building products and meets the need within the architectural community in particular, which has been requesting a return to the integrity of the brick in all its original clay glory.
Favourites in the PGH range that work well with this aesthetic include the full Sandstock range, which are all created using centuries-old methods where they are baked in large sawdust-lined moulds, giving them a handmade, rustic appearance.
Back to nature
A spin off from the Sophisticated Neutrals trends, Back to Nature includes design elements from a broader spectrum of botanical influences, drawing inspiration from nature and connecting indoor with outdoor spaces.
One of the crucial elements of this trend is a range of brick products that work both outside as part of a façade and then in internal features to fully integrate the design. PGH Bricks' soft and cool range of Seascape glazed bricks evoke the ocean and coastline in subtle tones and are perfect for seaside homes. Alternatively, consider Smooth bricks in Concrete Grey, Stone Grey or Wombat Grey.
With the resurgence of interest in mid-century modernist houses, PGH is seeing a more authentic, natural approach to building materials. These homes originally used materials honestly, expressing their nature with elements such as timber with a clear, natural or lightly stained finish, not disguised by heavy paint.
Natural palettes add tranquillity, comfort and raw beauty. These are colours inspired by nature, metals, minerals and the environment ­– pale greys, charcoal, black, off white, white, deep stone greys, zinc, bronze grey greens, a touch of sand or ochre.
Greys
Grey has long reigned as the hero shade of Australian exteriors – for more than 10 years now. The greys continue to offer classic style, but are ever evolving into new, contemporary hues.
From rustic dry pressed bricks such as Megalong Valley Grey (a subtle, versatile soft shade) to classic Sandstocks such as Castlemaine or New Grey with White Slurry and even rich dark Metallics such as Pewter (the perfect choice for a dramatic front façade), grey is one of the most versatile shades around.
Grey bricks work with a variety of design styles – darker, moodier shades blend well with heritage features, allowing architectural elements to be more subtly highlighted, or provide a dramatic backdrop to details picked out in white.
Lighter shades complement whites, blacks and even garden greenery, and allow a softer, more relaxed palette that is eminently easy to live with. Ideally matched with dark guttering and roofing, light shades of grey fit into contemporary designs especially in indoor/outdoor spaces, allowing a soft palette that flows seamlessly from one space to another.
Sophisticated neutrals
Neutrals – modern takes on sandy tones, off-whites and beachy shades – continue to attract buyers because of their versatility and longevity. Always popular, their perennial appeal has never diminished, yet new shades are becoming more sophisticated as whites, stone greys, and concretes are added to the mix.
Modern neutrality is now being subtly enhanced by the use of different materials within one colour palette – consider silvery grey concrete matched with mid-grey bricks and dark grey roof tiles, all of which link back into the texture trend. It's about layering of tones on tones, each with subtle textural differences.
Face bricks that reflect this trend include the Olympus and Matterhorn styles in the Altitude range, as well as Smooth bricks in the softer shades of grey – Concrete Grey and Stone Grey – and the "New White" and Castlemaine products in the Sandstocks range.
Textures (and sizes)
Textural elements in brick facades are becoming more popular with new home builders. Adding layers of texture within a limited range of brick colours will increase depth and interest in exteriors, while still keeping a neutral base palette and corresponding modern look.
These added textural elements are being expressed in two key ways: firstly with contrasting textures of similar shades (smooth and metallic, velour and smooth, dry-pressed and metallic. Consider mixing a Dry Pressed brick with a corresponding shade from the new Morada range, or even the Academy range of glazed bricks.
The second way is through Self-patterned textures are becoming more common, particularly in the new, more elongated shapes that are now available for most popular styles of brick.
New products such as Cultured Stone from PGH Bricks & Pavers offer affordable textured stone interest matched perfectly to a smooth brick finish.
Industrial chic
The industrial style of aesthetic creates a comfortable, lived-in look that instantly makes people feel at home. Starting in inner-city cafes and converted warehouses, it has also started to move into mainstream suburban homes. It particularly has appeal for families wanting to add a rustic appearance and touch of authenticity to their new builds.
Many new kitchens have borrowed from industrial chic – brick splashbacks, black metal handles and exposed light bulbs, but the concept has spread throughout the rest of the house and now even the outside, especially with the use of black steel-framed doors and windows to complement brick walls.
The new Manhattan Collection, featuring two new bricks – Tribeca and Chelsea –perfectly captures this new trend. This innovative, design-led release is a bespoke, locally made collection of bricks that captures the edgy, exposed-brick wall look and feel. Other bricks that work well with an industrial style include the ever-popular Balmain and Jackson Sandstock bricks, which boast an authentic, rustic appearance.