A newly completed shopping centre just outside of Geelong shows the flexibility and beauty of the InBrick system

View more
On a commercial building site, time is money, which is why the choice of InBrick was such a game changer for the builders of the new Armstrong Creek Town Centre, just outside of Geelong in Victoria.
PGH Bricks & Pavers' InBrick is an inlay brick system that embeds genuine clay brick facings into precast concrete panels, providing the look and feel of brick to precast concrete panels.

View more
Low in maintenance, extremely safe and much faster to construct, it's a great way to get the durable aesthetic of brick in a shorter timeframe.

View more
Georgie Laverick of Hutchinsons Builders was the project engineer on the Armstrong Creek build and says that the InBrick product was the perfect choice for the project.
Architects ClarkeHopkinsClarke (CHC) wanted a premium look for the centre, which is a 1400sqm shopping and community hub for a new suburb. InBrick presented the opportunity to achieve a beautiful brick façade and unlock the potential of the great range of PGH bricks in commercial construction.
"The developer really wanted brick," explains Laverick. "They wanted a light brick, a dark brick and a smooth black brick, with the darker brick to have more of a tactile, porous feel to it. So what was specified really hit the nail on the head with regards to their brief."
InBrick precast panels can be for structural or non-structural purposes, depending on the building type and application and don't need a scaffold on site. Everything is prefabricated off site and craned into the project, allowing it to fit in with the construction schedule.
"It is assumed that a lot of people will come to the space and because it's a town centre, it's supposed to be the heart of town, where everyone goes. This was an important project aesthetically and architecturally to get right."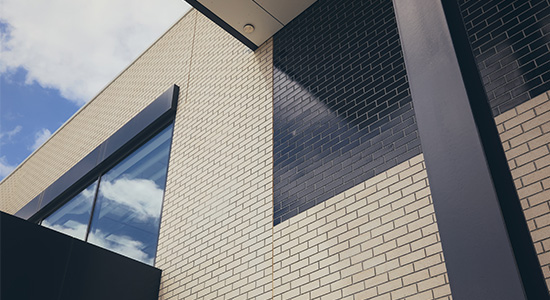 While this is the first time that Hutchinsons has used InBrick, the product impressed Laverick. "It is a good material or methodology to adopt," she says. "From a program point of view, it meant we could bring a lot of things forward because we're not installing precast and then cladding it in the material."
Another bonus was that because InBrick uses real bricks from the PGH Bricks & Pavers range, Hutchinsons were able to get the bricks individually and apply them in circumstances where there was block work instead of precast panelling, for areas such as below and above window sills and other details.
Indeed, unlike similar products on the market, InBrick uses real bricks and most of the end users – in this case shoppers in the town centre – would not be able to tell that it wasn't traditional brickwork.
The InBrick system was installed by precaster, Statewide Panels. Owner Dale Baldi of Statewide Panels said this was also their first project with InBrick, but felt the system met the brief.
"Armstrong Creek was perfect for this project, with a minimal timeline" he explained. "Precast can be made and erected in half the time a brick layer would be on site. It is ideal for anything with height to the building where access is a big issue."
View more
"Install is very easy, quick and very time-wise," he adds. "We were standing 20-25 precast panels per day so a whole front of a building would be up within the week."

View more
"The developer wanted the brick finish but timeline was critical. With InBrick, structurally you still keep the precast integrity and steel support with a brick finish externally. The engineer uses the panels as a support to the entire roof and steel work, second levels, steel supports, external awnings, etc, so this keeps the structural integrity of the building while giving an architectural finish. This system makes it easy to keep both engineer and architect happy and the client pleased with the finish."
The flexibility of the InBrick liner is also a bonus, allowing the builder to create brick profiles that might otherwise be only within the reach of very experienced and in-demand bricklayers. The liners allow the system to change coursing, do curves or archways – all the complex features that can be untaken by a very skilled traditional bricklayer, but created quickly by a precaster using InBrick.
"Brick looks like brick," says Baldi. "The standard person shopping in Coles would not really take too much notice and just think it was a brickie's job, but very neat. If you went with another product with a brick pattern, it comes out with the brick finish, but you could tell it's a precast painted pattern. Brick especially feels different. Other products look like you have tried to keep the build on a tight budget and while they may look like brick, they will feel like concrete."
View more
We're here to help
If you have a question or a request please call us on 1300 313 382 or fill in our form and we'll be in touch.
Oops, something went wrong! Please call the CORIUM team on
1300 313 382
.