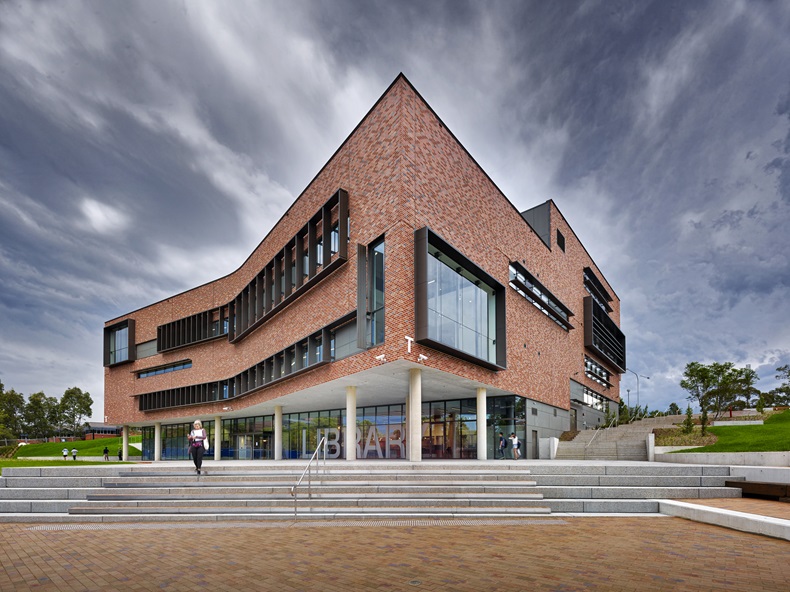 Case Studies
Western Sydney University: John Phillips Library, Penrith (Kingswood) campus
Finalist in the 2015 Think Brick Horbury Hunt Commercial Award
The Library consolidates the library facilities at two of Penriths campuses into one new building and accommodates centralized administrative services from five other campus libraries. The brief sought to create an efficient, modern, state-of-the art library, an inspiring and user-friendly research, learning and study centre. The campus buildings are built in red brick. This remained a prerequisite brief requirement to maintain visual consistency. However AJ+C chose a series of bricks predominantly with red tones to provide texture and complexity.
The textured red brick facades read as an additional skin applied to the building rather than being anchored to the ground plane. All openings are framed by dark bronze sunscreens reducing the perceived mass of the building and responding to the buildings orientation providing further scale, detail and texture.
To achieve the mottle, four types of bricks in the following ratio: PGH Smooth Face Red 35%, Red Velour 35%, Dry Pressed Red Rum 20% and Lincoln Blue mottle 10% and were combined in situ to ensure ratios were consistently maintained on all facades. A consistent cut was required to ensure the cut on the acute corners was maintained throughout.
Gallery