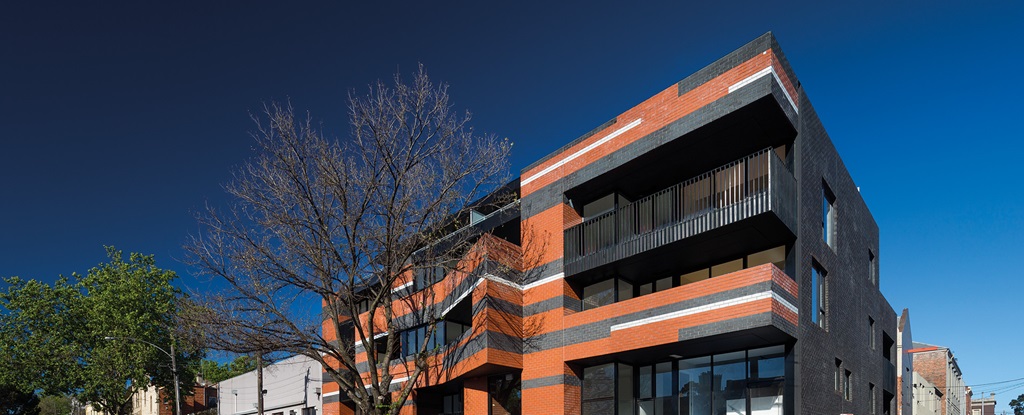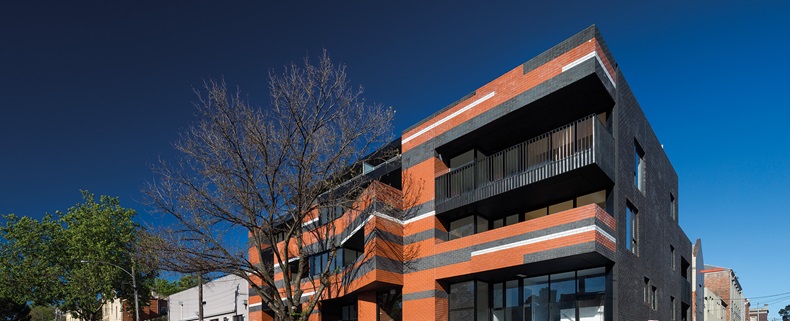 Case Studies
LOVE Building
Residential apartments embrace brick expressionism
The LOVE Building in North Melbourne has used PGH Bricks to pay homage to the decorative use of brickwork in local Victorian architecture and overcome the challenges involved with designing a medium-rise building in a mixed-use precinct.
CHT Architects specified PGH Smooth Face bricks in Flame Red and Nuvo bricks in Victorian Blue for the four storey residential building. Taking cues from 'brick expressionism', the bricks were set in a decorative pattern to spell the letters L-O-V-E across the main façade's balconies and canopies to maximise the building's visual appeal.
David Carabott, Director at CHT Architects said: "The use of red brick in The LOVE Building was important for tying the project in with the existing heritage of the North Melbourne streetscape.The context of the area surrounding the site was a vital influence during the project's design process, as the concept of the project evolved to showcase both the functional and aesthetic qualities of PGH Bricks.
"The Victorian Blue brick was chosen as a colour contrast to the subtle red brick and to reference the historical bluestone prevalent in the area. Ultimately, we think this combination of red and blue PGH brickwork has resulted in a balanced contrast, with the Victorian Blue brick acting as a feature on the façade of the building."
Mr Carabott praised PGH's product offering and professionalism. "PGH offers exceptional value for money, support and assistance. The bricks were easily accessible and delivered as required, which was essential due to minimal storage space on site."
"Working with PGH was an easy and enjoyable experience, from the initial design concept through to the project's delivery. We dealt with a single point of contact throughout the project, from selecting products right up until the completion of the project. This was an invaluable experience and PGH's professionalism really did enable the successful completion of The LOVE Building."
PGH Smooth bricks are characterised by clean edges, sharp lines, consistent colours and refined textures. This premium range is ideal for contemporary appeal.
PGH Nuvo bricks are design focused and adaptable and available in various bold colours to express strong, individual style.
Gallery