News
PGH Bricks on Ready Set Reno
08 Sep 2017
We are very excited to announce that PGH Bricks have partnered with new TV show Ready Set Reno set to Premiere this Sunday night on 9Life.

The show revolves around ex-The Block contestants Michael and Carlene Duffy and their efforts in renovating a huge property in Queensland. The show showcases a range of people's renovations that all helped to inspire their own home, with a big reveal of their own property towards the end of the program.

Our bricks are set to be an exciting feature of Michael and Carlene's new home that will be revealed later in the season. Given their passion for design and styling, we are eagerly awaiting what they do with their own home and how PGH Bricks will be featured.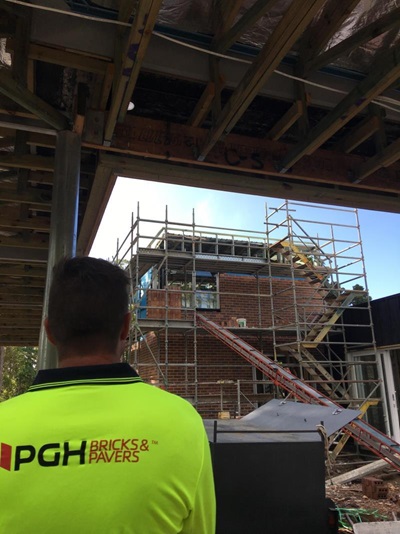 In addition to the TV show, the renovation project will feature on the duo's personal blog Cedar + Suede.
Stay Tuned for final reveal images and more behind the scenes images.


THE PROPERTY
Originally built as the clubhouse area for a luxury retreat, Michael and Carlene's project property has a long and storied history.

From surviving lightning strikes and long periods of general disrepair, to stints as a boarding house for Japanese students, the home has seen it all.

After a year on the market with little interest from prospective buyers, the property was snapped up by Michael and Carlene.

Seeing a clear opportunity to spark the shell's transition from shabby to chic, the pair have since made the house livable by renovating a small section of the structure.

Michael and Carlene have clearly returned from their stint on The Block with paintbrushes poised and drills at the ready—full of design inspiration and raring to complete the renovation.
THE BRICK SELECTION
Michael ad Carlene have chosen to use 2 bricks that have similar tonal qualities but different in their manufacturing style and appearance.
The first one use mainly externally is the extremely popular Black & Tan from our Smooths range. Internally they have turned to a Dry Pressed brick in order to use both sides of the brick in an internal walls therefore giving both rooms a textural brick feature wall. The chose brick is Hawkesbury Bronze.

For more information on these bricks, contact us or drop into one of our Selection Centres.

#ReadySetReno