BUILDERS AND HOMEOWNERS CASSY AND JARROD CHOSE PGH BRICKS' SLEEK MORADA BRICKS IN NERO SATIN TO CONNECT THE EXTERIOR AND INTERIOR SPACES IN THEIR SPECTACULAR NEW BUILD.
There's nothing like showcasing your individual style when it comes to designing your house – even when you are in the midst of suburbia.
Cassy Morley and husband Jarrod, who have just completed their dream home in Sydney's Harrington Park, chose an adventurous design that echoes an industrial look. The couple own their own building business, Edgecliff Homes, and wanted to create not only a spectacular home for themselves, but also a display home for potential clients.
Custom design
A successful, family-owned-and-run business, Edgecliff Homes creates custom-designed homes at all levels and price points.
"We started about three and a half years ago and we specialise in bespoke homes," Cassy explains. "When we first started, we only did about 10 homes but we're on track to do 100 homes next year. So we've grown very quickly in a short period of time, and we build homes from $300,000 to $3 million."
"We do all ends of the scale, depending on what our client's budget is. We do first homes, we do custom homes. We also do people's dream homes and forever homes as well."
Their own Modern Industrial-style home is three storeys high (including a basement), and was built in just 12 months despite the COVID lockdowns and the torrential rain of 2022.
"We took about six months or so of planning," Cassy says. "So a lot of time went into the house, trying to develop what we wanted. There were a lot of things that we wanted within the house. We wanted a lot of bedrooms, many bathrooms, a theatre room and large garage. The architects had to try and get a lot of house onto what is not normally a big sized block."
Modern Industrial
The style of home they chose was a different aesthetic for their housing estate, located in one of Sydney's newer suburbs.
"We wanted to have a Modern Industrial style of home," explains Cassy. "We had concrete outside, but we wanted to bring a really nice brick in, which is why we picked the brick that we did with PGH so we would have a really nice feature on the front of the house."
"It was something that we've seen a lot of online but in our estate, you don't really see many modern industrial homes. You see a lot of modern architectural homes but we wanted to be something very different when people drove past. Just a bit of a statement piece."
The couple chose PGH Morada Bricks in Nero Satin for the build, using more than 15 thousand Morada bricks throughout the house.
"We decided to bring that brick inside. With an industrial-style home, normally the outside look comes inside too. So we added concrete on the inside concrete steps and we've got a massive three-storey feature brick wall in the middle of the house."
"It all continued when we were in construction, when we decided to use the bricks on the kitchen splashbacks in our butler's pantry and kitchen to try and bring that industrial feel through to that space as well."
"It is something that a lot of people don't see, and we did it because we wanted to have something a little bit different. People often walk in and go, 'Oh wow, look at this brick. How amazing is it?"
Choosing the colour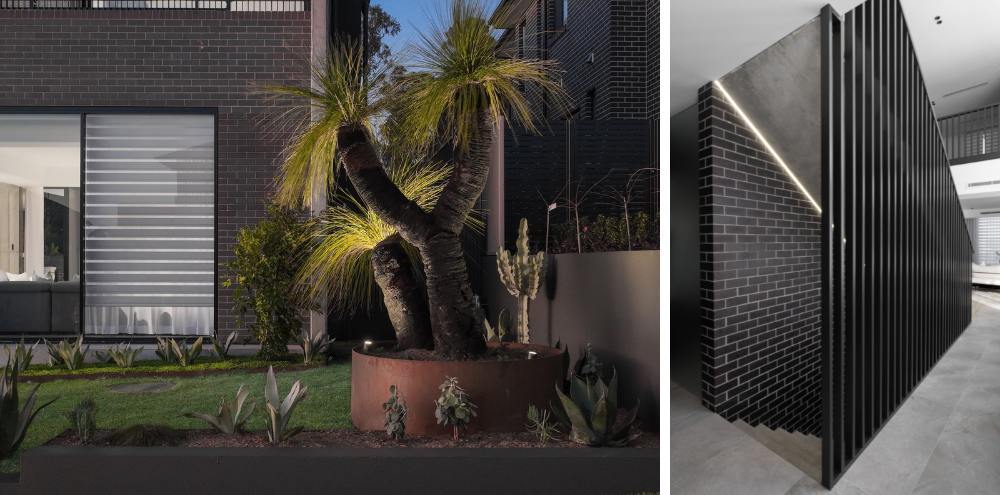 The opulent satin finish of the Morada bricks was chosen for an unusual reason – it matched their three dogs, says Cassy.
"We have three black Labradors," she explains. "So the black and greys of the house really suit our puppies. So that was a massive reason for designing the house in that way because our dogs are our entire life; they live in the house, they come to work with us every single day. So we had to have that colour scheme to be able to work with the dog hair."
Low maintenance
Another reason for choosing brick was that it is easy to look after. With the couple managing a demanding and high-stress business, they really wanted easy-care materials on their home.
"We love that the bricks are low maintenance," says Cassy. "We don't have to do anything. You just give a little bit of a wipe down every now and then, but you don't have to worry about painting. It's really good."
About the Morada range
PGH Bricks' Morada Range is imported from Europe and boasts the highest end of luxury with the smoothest finishes in solid, colour-through brick products. Available in Standard size, and in a slender Linear, this collection epitomises a stunning architectural selection for achieving European style and elegance. Visit a selection centre to view Morada and the other modern additions to the PGH Bricks range.
Interested in learning more?
Check out more about the deep and dramatic tones of the Luxury Noir palette here and investigate Modern Industrial style here.
View more