Thinking about building and want to know the best material to use for construction? Here's why bricks are best.
Making a decision about the material to use for your dream house may seem daunting, but when you choose bricks, you can be reassured that you are selecting a product that has stood the test of time (centuries even) and provides an abundance of benefits – both seen and unseen.
Clay bricks are affordable, readily available, mass-produced, thoroughly tested modular building components. Their relatively high mass results in desirable acoustic and thermal properties. They require little or no maintenance and possess high durability and loadbearing capacity. All PGH Bricks are manufactured under close controls to the Australian Standard requirements of AS/NZS 4455:1997.
View more
1. Bricks are low-maintenance
Bricks don't need painting, sealing or protection from termites. Brick walls won't rot, fade, peel or disintegrate over time. All they need is a (very occasional) clean with a soft brush to maintain their good looks. As one of the earliest building materials known to man, brick buildings constructed more than 2000 years ago in Roman times are still in use – and still holding up well. Their inherent beauty is permanent, which is why property investors prefer them, knowing that their strength and beauty is long-lasting and easy to maintain. 
2. Bricks offer thermal properties
Brick is a building material that has exceptional "thermal mass" properties. Thermal mass is the ability of a heavy, dense material to store heat and then slowly release it. This means that during summer, brick homes stay cool during the hottest part of the day, while in the cooler months, the walls store your home's heat and radiate it back to those inside. Ideally suited to Australia's sunny climate, they can be easily combined with insulation to provide the best heat-efficient building solution around. 
3. Bricks are made from natural products
Brick is predominantly made from clay and shale, which are among the most abundant materials available on earth. They are created with minimal waste, all of which can be reused in future products. Because they are made of natural products and fired under incredible conditions, they can withstand almost everything that nature can throw at them without losing their beauty or strength. Clay bricks are inert and are not prone to giving off volatile materials. Clay brickwork and its constituents are non-toxic.
4. Protection from fire, wind and moisture
Brick is non-combustible, due to the fact that the primary ingredient in brick is clay, which is fired to around 1000 degrees Celsius. This means it does not burn when exposed to bushfire and can help protect the more combustible items inside a house. Brick is such a strong and durable building material that insurance companies often offer discounts on home insurance costs.
Brick veneer wall assemblies control moisture better than wall systems with other exterior materials.  Although not completely waterproof, clay bricks resist the penetration of rainwater, including wind-driven rain. Therefore, brick veneer wall systems help minimise mould growth, wood rot and infestation by insects, and corrosion of fasteners embedded in wood better than other wall assemblies. 
Studies have also shown that homes built with brick offer dramatically more protection from wind-blown debris than homes built with vinyl or fibre-cement siding.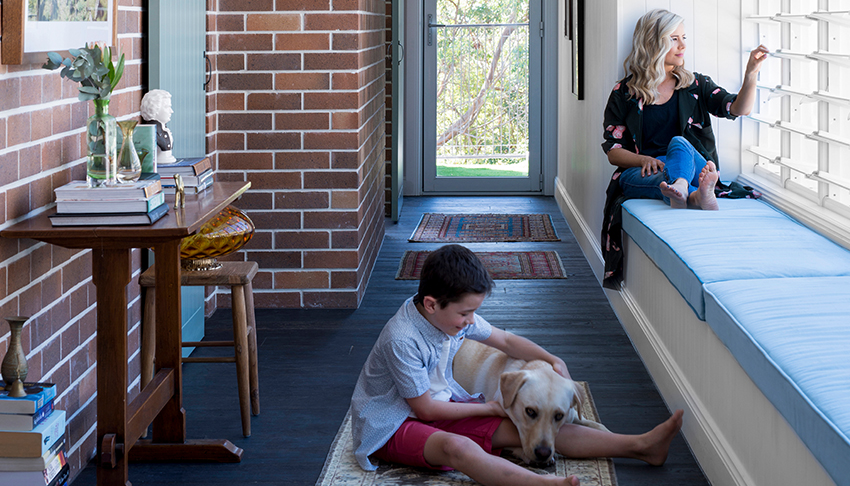 5. Bricks are beautiful
Bricks suit every design style, from grand Victorian residences to ultra-modern homes and mid-century masterpieces. Versatile and tactile, they come in a huge range of colours, finishes and textures, allowing home builders to create their own unique home. Smooth-textured bricks and metallic finishes are perfect for contemporary styles, or mid-century designs, while classic, artisan-style sandstock bricks work beautifully with traditional homes or industrial chic.
Interested in creating your own beautiful brick home? Download our technical datasheet, or browse through our gallery of brick homes.