BRICK AND STONE COLLABORATE IN A BEAUTIFULLY MODERN HOMESTEAD IN GEELONG
Positioned in the highly sought-after Hinterland Estate in Moriac,
Belle Vue 38 Display Home
by
Little Constructions
beautifully replicates the Edwardian style of yesteryear with a contemporary twist.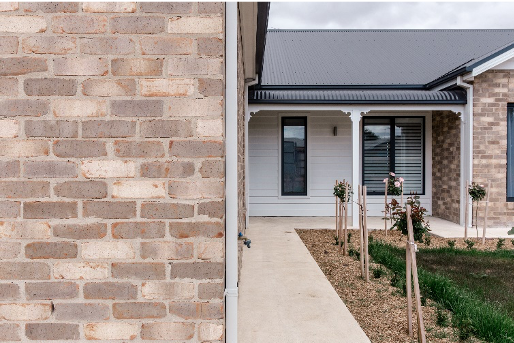 The team at
Little Constructions
, led by Mark and Leesa Little set out to create a display home that had never been done before in the Geelong area, suiting the acreage market with a warm and homely feel. The ideology was to continue a pattern of originality and innovation after Little Constructions found that their first wide, ranch style home was becoming increasingly common amongst display homes in the Geelong area.
PGH Bricks & Pavers' Manhattan range
in
Chelsea
were used in conjunction with
Southwest Blend
from the
Cultured Stone Pro-Fit Ledgestone range
to achieve this, as these products creatively complimented the natural environment together to soften the aesthetic with an old, yet chic style.
Being the only display home on acreage in the Geelong region to date presented a significant challenge in the design and materials specified, as did the area's personal significance, with Mark's parents married in the church next door in 1975. Director of Little Constructions, Mark Little recalls the challenge of specifying a product that would soften an otherwise harsh acreage landscape. "PGH's new Manhattan range stood out from the crowd. Our interior designer fell in love with the Chelsea brick to compliment the natural environment, as it was a bit softer" said Little.
Inspired by the industrial chic movement, the urban and raw
Manhattan range
are painstakingly manufactured to conquer the weathered and tumbled imperfections of intended knots, scratches and nicks and colour blending designed to develop an edgy, exposed brick wall look and feel. Modern technological advancements in the crafted manufacturing process have ensured these bricks deliver consistent strength, durability and longevity as well as the benefits of exposure grading that actual recycled bricks may lack. This means that the
Manhattan range
possesses the many benefits of a modern brick whilst achieving the desirable aesthetic of a traditional recycled brick.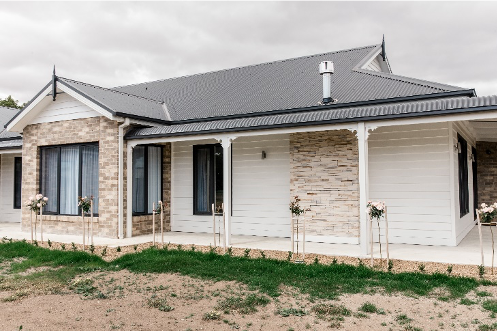 Magnifying the beauty and character of the façade, the Cultured Stone Pro-Fit Ledgestone range is a very practical way to achieve that custom and detailed look and feel. Modelled from natural stone with 58 per cent recycled content, the Cultured Stone products are manufactured with meticulous care to achieve the depth, pattern, complexity of colour and unique texture of the natural stone, whilst being an affordable, easy to install and environmentally friendly alternative.
Using the Cultured Stone products in conjunction with bricks is a theme that Little Constructions are looking to continue throughout their display homes, with Mark describing Cultured Stone as "quick and easy to install, and most of all excellent value for money.
"The Manhattan bricks are also great value for money and a great product to work with."
The
Belle Vue 38 Display Home
has been embraced by Geelong, particularly with the smaller Moriac community.
Little Constructions
have been taking an average of over 20 groups through the project each weekend since having opened, with very positive feedback from those that have taken the time to visit. "People are now looking for land as they didn't think anyone offered our style of home." "This is a theme we are looking to continue with on all our display homes, with the stone used internally or externally in conjunction with our fireplaces" said Little.
View more
Have a question for us? Fill out the form and a PGH Team Member will get back to you promptly.
Oops, something went wrong! Please call the PGH team on 13 15 79.