'The Aria' by Modernview Homes
Award-winning homebuilders choose PGH bricks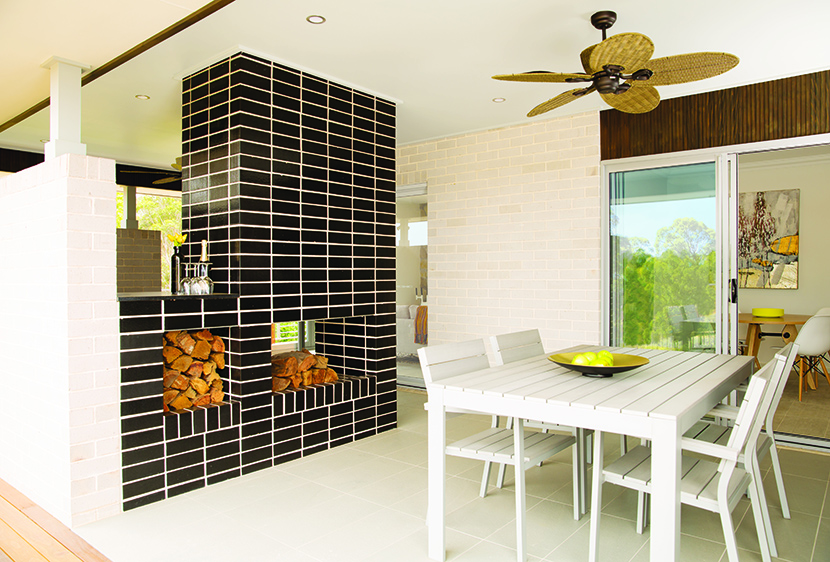 Modernview Homes are one of Sydney's newest home builders, and their latest design, The Aria, shows why they've already won numerous prestigious awards. By using a complementary selection of products by PGH Bricks, Modernview were able to successfully layer a variety of elements to deliver a stylish and modern rustic facade.

With its light grey colour, Aluminium from the PGH Composite collection was selected to provide the home's neutral canvas, and Pewter bricks from the PGH Metallic collection formed the perfect backdrop of a striking water-feature at the home's entrance. The metallic finish of the Pewter brick shimmers under a stream of water, creating a stunning artwork.

One of the highlights of the Aria is the outdoor fireplace that features glazed black Nobel bricks from the PGH Academy collection. The alfresco living space is the hub of the home, and the double-sided, fully glazed, black brick fireplace is its striking centrepiece. This focal point visually connects the den, formal dining, family and kitchen to the outdoor room. It also acts as a divider, screening the alfresco dining area from the outdoor lounge, to create an intimate, cosy environment; the perfect spot to unwind on a balmy summer evening or chilly winter afternoon.

PGH has a range of twenty fully glazed face bricks in a variety of colours. This includes seven energetic colours from the Vibrant collection, four soft, neutral tones from the Seascape collection and four metallic finishes from the Urban Metal collection. In addition, five deep, dramatic tones make up the Academy collection, including the Nobel brick featured in the Aria.
View more
Have a question for us? Fill out the form and a PGH Team Member will get back to you promptly.
Oops, something went wrong! Please call the PGH team on 13 15 79.