SLa restores historical design to an eclectic Queenslander using a contemporary combination of PGH bricks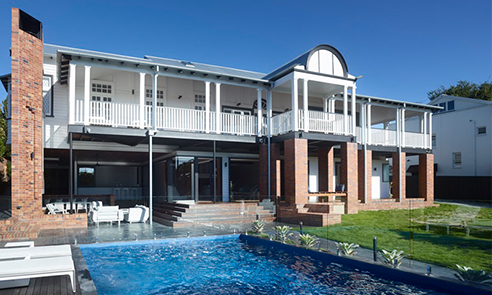 The revival of brick in Australian design is extending beyond the architecture of buildings, emerging as a new favourite for landscape architecture.

"The use of brick as a hardscaping material is growing across Europe, where brickwork is an inherent part of the built environment," said Brisbane landscape architect, Dan Young.
"In Australia, it's appearing in more public outdoor spaces and we're slowly starting to see brick used in residential landscaping."

"Rethinking the use of building materials such as brick for landscaping provides new design opportunities. If you can use brick for a constructed wall, why not lay it on the ground as flooring or use its depth to create seating or fireplaces," said Dan.

Brick lends an earthy and natural character to outdoor areas, bridging the natural and built environment.
View more
In addition to being a durable and low maintenance alternative to traditional hardscaping materials, brick affords exceptional design flexibility. It can be laid in a range of bonds to create pattern and visual interest. Because of their depth, bricks can be split to allow for drainage and easily transition from horizontal to vertical planes (to create fireplaces or seating, for example). They also retain heat, helping to create warm and comfortable spaces for cooler evenings.
This flexibility and durability is seeing leading residential architects use brick to create unique flooring, outdoor seating and fireplaces.
At the Monaise Residence,
Shaun Lockyer Architects (SLA)
used brickwork to create playful patterns of light and shadows for the home's courtyard seating and fireplace.
View more
Have a question for us? Fill out the form and a PGH Team Member will get back to you promptly.
Oops, something went wrong! Please call the PGH team on 13 15 79.