What is the brick matching service?
When it comes to building with brick, the opportunities for design flexibility and versatility are truly endless. Being able to use different brick bond patterns and brick laying patterns adds to the huge array of aesthetic options that bricks present, and allows you to have full control over the appearance of your project's facade.

Proper brick bonding with a well laid-out brick bond pattern makes brickwork uniform in both structure and composition, as well as maximising the structure's integrity, strength, durability and visual appeal.

To enable you to give your project extra style, character, and structural integrity, we've laid out the most common brick patterns used in bricklaying today. From these bricklaying patterns, an infinite number of individualised bonds and patterns can be created.

Please note that when we reference headers and stretchers, we are referring to the typical brick orientations.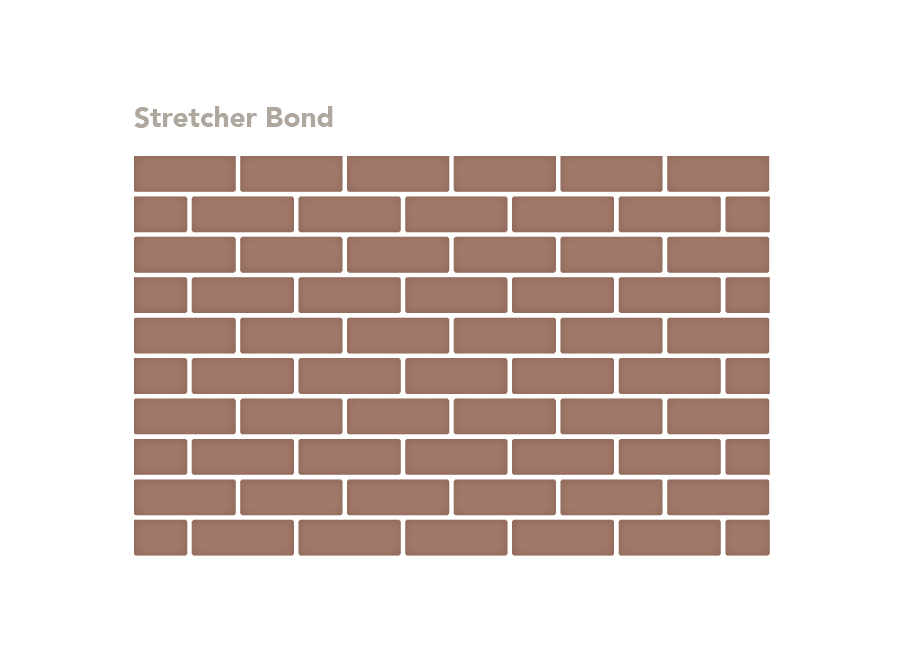 Stretcher bond
Composed of stretchers set in rows and then offset by a half brick, the stretcher bond is one of the most common and well-used bricklaying patterns. It's easy and simple to construct and produces minimal brick wastage due to the vertical joints being staggered each time by a half brick. Another advantage of this brick bond pattern is that the bricks don't have to be cut to size to be used.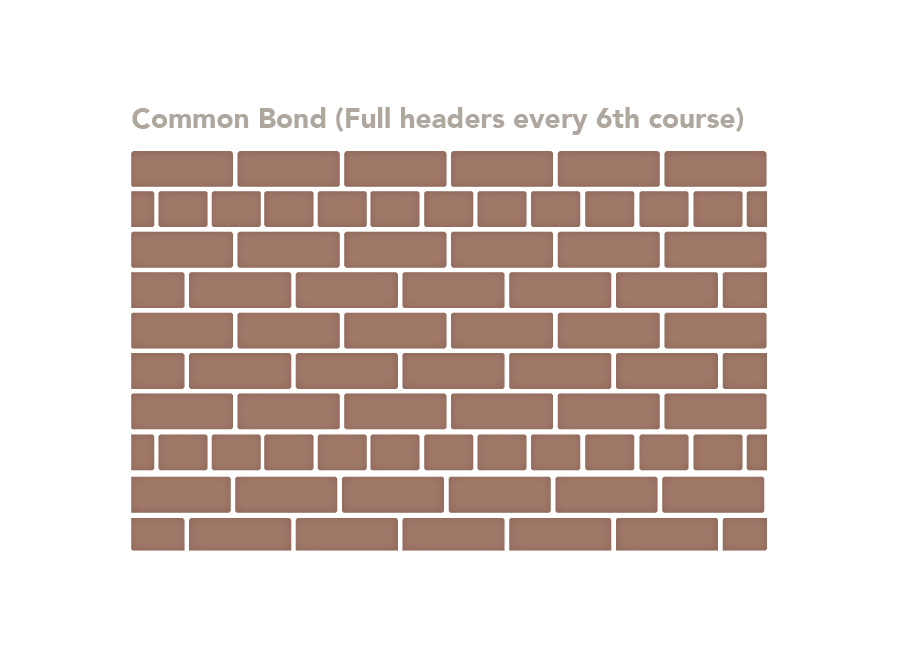 Common bond (full headers every sixth course)
The common bond is also known by some as the American bond, and involves a course of full headers being inserted every six courses. A header is always centred on one of the stretchers, and the joints of each course of headers should always align.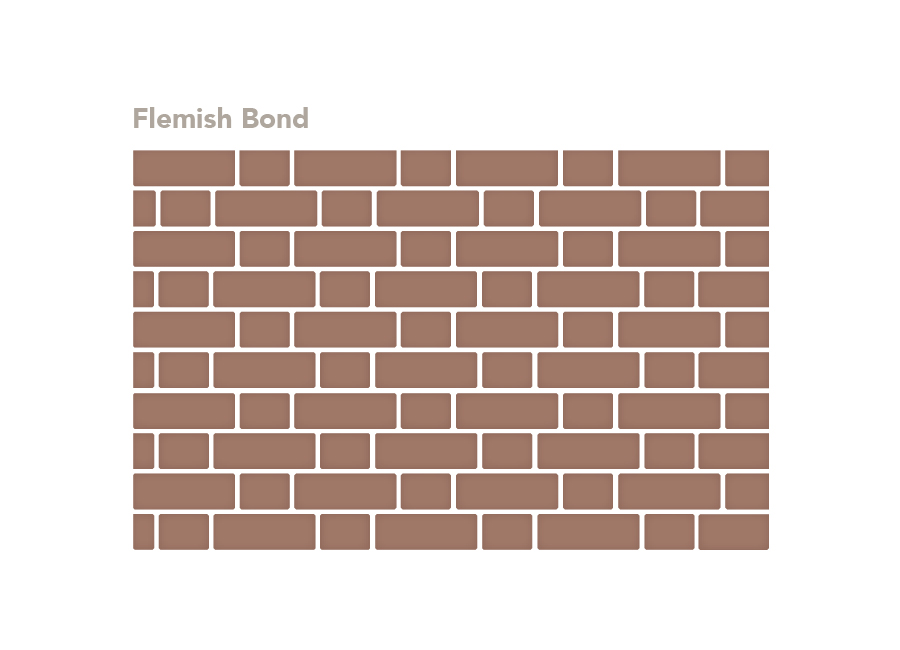 Flemish bond
Flemish bond is a popular bricklaying pattern that's created by alternately laying headers and stretchers in a single course of brick. After the first course has been laid, the next course is laid so that a header lies in the middle of the original stretcher course. This brick bond pattern tends to be slightly weaker than the English bond when it's one brick thick, however is still commonly used and includes a little more cutting and shaping work.

The Flemish bond brick pattern resembles the 'monk bond' brick pattern, however differs in that in the monk bond pattern, all courses consist consecutively of a header and a stretcher.
Common bond (Flemish every sixth course)
A common bond can be varied by using a Flemish header every sixth course, giving the brick bond pattern interest and a unique look, ideal for garden or feature walls.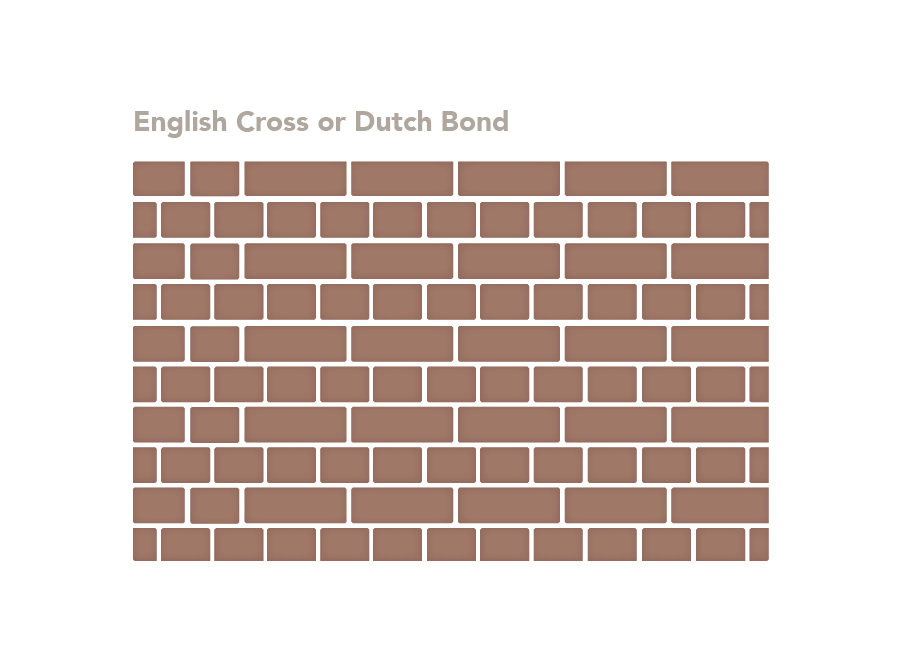 English cross or Dutch bond
An English cross or Dutch bond brick laying pattern is made up of alternating courses between headers and stretchers, producing a solid and sturdy wall that is thick in depth, easy to lay, and highly durable for a wall that's only one brick thick. In this brick laying pattern, the stretcher course is started with a king-closer (three quarter brick) each time it is laid. English cross or Dutch bond is a common brick laying pattern for viaducts, bridges, embankments, and other civil engineering architecture projects.
Garden wall bond
A garden wall brick bond pattern is actually just a Flemish bond in which three stretchers alternate with the header. Alternatively, if there are two stretchers between each header, then it is known as a 'double stretcher garden wall' bond. Depending on the look you are trying to achieve and the purpose of your wall, four or even five stretchers can also be laid between the headers.
Stack bond
A stack bond is the brick bond pattern to choose if you are looking to really show off and make your brick's aesthetic qualities shine. However, it is not a structural bond, and is usually used in interior settings (like feature walls or splashbacks) for non-load bearing walls. Stack bond is made up of rows of stretchers with each stretcher directly centred on the stretcher below it. All joints run vertically down the wall, with the horizontal edge joints and vertical edge joints being continuous.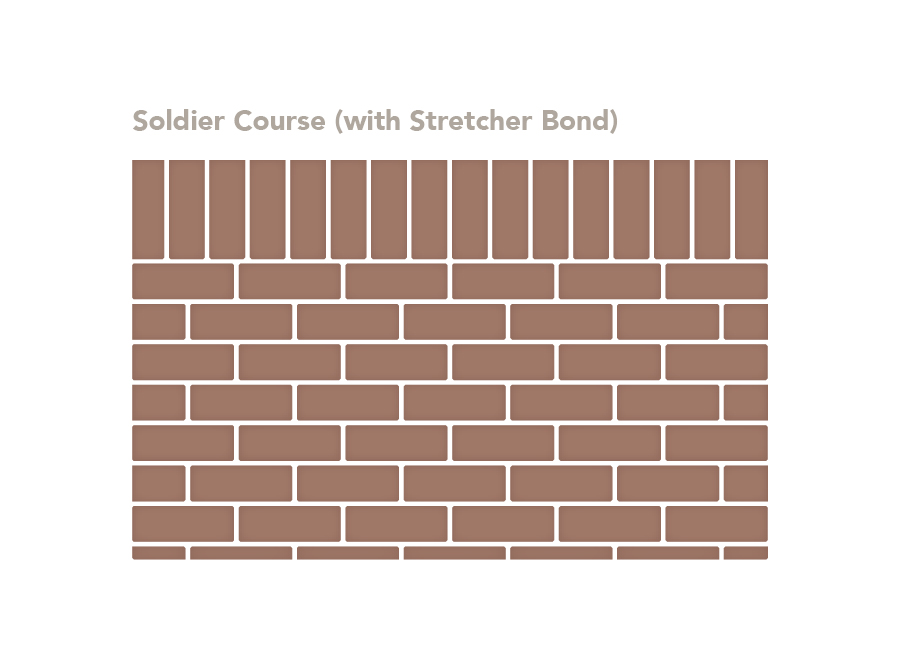 Soldier course (with stretcher bond)
A soldier course (with stretcher bond) brick bond pattern involves bricks being laid standing on their ends with the narrow edge facing out (so they look like little 'soldiers'.) This brick pattern is sometimes used for interior design and decorative effects, such as in fireplaces and to highlight door and window openings.
Brick laying practices
Here are some tips for laying bricks properly and efficiently so they last for decades.
Mortar, extruded from tapping the brick down to the string line, should be cut off with an upward stroke of the trowel. In this manner, a clean cut is made, without smearing the face of the brick.
Joints should be tooled progressively as the bricks are laid, when the mortar is firm to thumb pressure. High suction bricks require joints to be tooled more frequently than low suction bricks. Tooling too late produces a 'burned' joint, where the surface may not be smooth and dense.
After allowing the mortar to undergo initial set, within a day, dry brush mortar smears, to remove any dags, and then wet brush any remaining mortar stains. Mortar that is allowed to set on the masonry face may require high pressure water jet cleaning or more costly, risky methods of cleaning.
Cavities shall be free from mortar droppings or other materials that might bridge the cavity and allow transmission of moisture.
Scaffolding should be kept at a minimum distance from masonry as specified by relevant standards.
When bricklaying is interrupted by rain or rain is expected overnight, masonry should be protected by covering it. Saturated masonry may lead to excessive efflorescence or staining with some bricks.
Face bricks are supplied with one face and one header suitable for exposing (i.e. to be seen after laying). Face bricks with unwanted marks, chips or cracks on a header should be laid with that header inside a mortared joint.
Face bricks with unwanted marks, chips or cracks on the face should be set aside by the bricklayer (or labourer) for use as commons or when brick cuts are required.
Brick blending
PGH bricks are made from clay; a natural, versatile and highly durable material. Variation in both the clay and firing process means textures, composition, size and colour can vary from batch to batch. Poorly blended bricks may show unwanted patches, streaks and bands of colour in the finished masonry.

In order to avoid this:
All bricks required for the project, or as many packs as will fit, should be delivered at one time and stored on site.
Bricks should be drawn from at least four packs simultaneously, working down from the corners of each pack.
Let us help with your brick selection and installation
We've worded the information here in a simple way to ensure it's easy to understand. If you'd like more technical help regarding our brick ranges, request a download of our Technical Manual here.
Download Technical Manual
Alternatively, you can complete the form below, visit us at one of our Selection centres, or phone us on 13 15 79.
View more
Have a question for us? Fill out the form and a PGH Team Member will get back to you promptly.
Oops, something went wrong! Please call the PGH team on 13 15 79.